Description of C Purlin:
C purlin roll forming machine was designed to make the steel C purlines for roofing. It is an revolution for construction. Compared with traditional purlins, steel purlins have so many advantages, they are light, easy to install, and recyclable for other buildings etc. Therefore, as we can see, in mordern steel industrial buildings or prefab enineered buildings, people always use C purlins, Z purlins and sometime U purlins without flange stiffeners as well.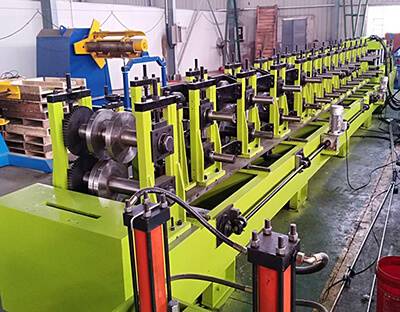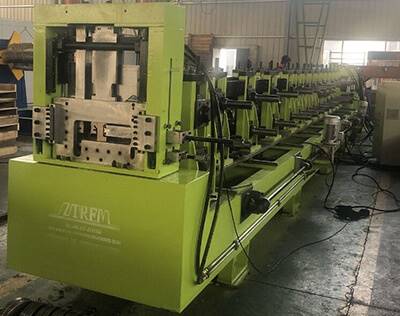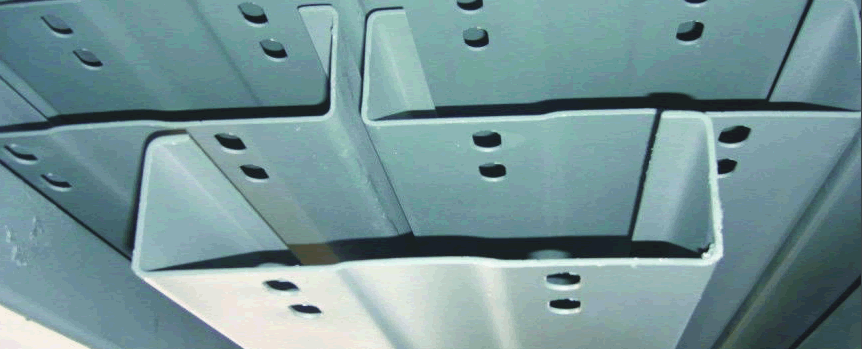 According to the usage of the C purline, we divide the C purline to the following types:
Galvanized C-shaped steel, hot-dip galvanized cable tray C-shaped steel, glass card slot C-shaped steel, glass curtain wall C-shaped steel, wire trough C-shaped steel, reinforced C-shaped steel, double-cage C-shaped steel, single-sided C-shaped steel, manual forklift C-shaped steel, Unequal C-shaped steel, straight-side C-shaped steel, oblique-sided C-shaped steel, inner-rolled C-shaped steel, inner oblique-side C-shaped steel, roof (wall) purlin C-shaped steel, automotive profile C-shaped steel, highway column C-shaped steel, solar bracket C-shaped steel (21-80 series), formwork support C-shaped steel, precision C-shaped steel for equipment, etc.
What is the C purline machine?
C purlin roll forming machine is equipment that produces C shaped steel channels continuously out of galvanized or cold rolled steel strips from feeding, punching for holes, bending and cutting.
Due to the change architects made about steel purlins, c purlin roll forming machine has been designed. Generally, a c purlin roll forming machine C shaped section channels continuously from feeding of the material, straightening, and roll forming, punching for holes or slots, and shearing. Seem like a z purlin roll forming machine, a traditional c channel roll forming machine is tehcnically capable to manufacture as much as 6 different sizes C steel purlins. Clients need to make manual changing for making different sizes channels. Besides, the cutting dies must also be changed manually for cutting different sizes C channels.
Furthermore, as roll forming technology advances, there are now automatic quick change roll forming machines for producing C and Z steel purlins (more at interchangeable c/z purlin rol forming macine)
Finally, the main components of a c sectional channel roll forming machine include a manual decoiler (3TONs capacity), a feeding guide for materials of different sizes, a levelling device, a front hydraulic punching for holes or slots on flanges, roll forming part, a rear hydraulic punching for holes or slots on web, a hydraulic cutting for cut to length, a PLC control cabinet, and and a hydraulic oil pump.
Technical Parameters of C Purlin Roll Forming Machine:
 C steel purlin roll forming machine with hydraulic cutter and post punching tools
Decoiler: manual decoiler;

Capacity of decoiler: 5 TONS;

ID. of decoiler: 480-520mm;

OD. of decoiler: 1250mm;

Raw material: Q235 Galvanized steel coil or Cold rolled steel;

Yield strength of raw materials: 235MPA-345MPA;

Material thickness: 2-3.2mm;

Forming stations: 13-15 stations;

Rolling stands structure: conjoint type;

Machine Frame stand: Welded structural steel;

Thickmess of Fame Steel: 18mm;

Roll forming speed: 0-12m/min (not including punching and cutting);

Material of Roller: Gcr15 bearing steel;

Shaft Material: High grade 45# steel;

Diameter of shafts: 80mm;

Motor Power: 15 KW;

Hydraulic punching: Stop to punch;

Material of punching dies: Cr12MoV steel;

Cutter: hydraulic cutter and stop to cut;

Material of cutting dies: Cr12 steel;

Hydraulic power for cutting: 7.5KW;

Cutting lengths and quantities: Client can set various on HMI;

Control system: Panasonic PLC, Inverter, CHNT transformer and Omron encoder;
Specail introduction of the C purline punching part:
For the punching part, we have two options for your reference:
Option A: punching before rolling forming
Punching before rolling forming can do the punching easily and fast.

It can be used to punch the high density holes.

And it could be any kind of holes combination.

By changing the punching dies, you can also save lots of money for punching station.
Option B: punching after rolling forming
Punching after rolling forming, we could use for both bottom holes and side holes.

The hole position could be very accurate.